Figuring out wedding transportation — how many cars you need, what kind, and when — can be daunting and confusing. Here are a few ideas from Platinum Limousines that may help when making your transportation arrangements for your wedding functions.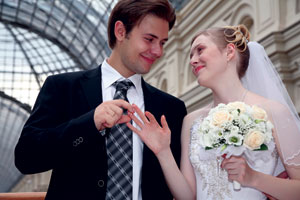 Start off by figuring out how many people you want to transport. This may include the bride and groom, their parents, grandparents, and additional attendants. If your budget is limited, you may ask the bridal party to drive themselves. Platinum Limousines' chauffeured town car is very affordable and a great choice for this situation.
Decide if you want the limo for the entire event, including taking everyone to the ceremony, from the ceremony to reception, and then home after the reception? This is the most common option. There is some money to be saved by having pickup/drop off service only, so that the driver is not waiting for the entire event. I recommend that you have at least one limousine or town car to take the bride and bridesmaids to the ceremony, and a limousine or town car to take the bride and groom from the ceremony to the reception site. This will allow the girls to get dressed together and will allow your bridesmaids to stretch out, thus minimizing wrinkling of their dresses. It will also allow the bride and groom to have some time alone together where neither of them has to concentrate on the road.
Trying to figure out who will drive where, and how to get the cars back to the necessary spots can be a puzzle to figure out. Make sure you put pen to paper and plan this carefully to make sure that no one will be stranded without a ride. Additionally, make sure you have adequate copies of contact information and maps to give everyone so that no one ends up lost. Also it is always good practice to call and confirm all wedding services the day prior to receiving them.
A typical limo rental scenario for the wedding might be:
The bride and bridal party take one of our Lincoln Town Car limos to the reception site where there is a room for them to change clothes and get prepared. The Town Car then delivers them to the ceremony site.
Meanwhile, the groomsmen take another of Platinum Limousines Lincoln Town Cars to the ceremony location, along with the best man and groom.
After the ceremony, one limo takes the bride and groom to the reception site, while the groomsmen and bridesmaids take the other.
At the end of the evening, the bride and groom are picked up in a getaway car (decorated by the maid-of-honor and best man, natch), and the bridesmaids and groomsmen all take the stretched hummer limousine out for a night on the town!
Platinum Limousines can accommodate all your wedding transportation needs!
Contact Us
Today!
Nowadays, there are many matters you should mind about your soundness. It isn't tight for people to get drugs online. How can you do this? There are hundreds of solid internet drugstores that will deliver remedies to your home. You can get remedy to treat acute treatment of the signs of osteoarthritis or spasticity. Cialis is used to treat a lot of types of medical problems. Cialis is a medication used to treat various infections. What do you know about buy generic cialis online? What is the most significant info you have to know about cialis online pharmacy? Last ten years more than half of men aged over 50 reported some degree of erectile difficulties. Luckily most of problems with sexual soundness can be solved. Spinal cord injuries can contribute to erectile disfunction. When you visit a sex therapist about erectile dysfunction, he or she generally should take a detailed psychological history, request a number of blood tests to determine cholesterol, and order an EKG if you're over 50. And the pills are generally mature safe enough. Common side effects can include indigestion, but it is certainly more common when you take more than the amount recommended. You should never use the medicament if you are allergic to it's ingredients. If you fear that someone might have taken an overdose of this medicament, go to the emergency department of your local hospital as soon as possible.